#17: The Woong Bee Club
The Woong Bee Club is one of the more upscale clubs in Phnom Penh, catering to the hipsters and fast-mover crowd. It's also reputed to be a regular gathering place for some of the more respectable Cambodian mafia leaders or gang members. Supposedly if someone asks you to "please move" because you're in "their chair", it's suggested that you do so without a lot of fuss. Telling them piss off because you "were here first" won't go over well and may even require you to seek medical attention.
There do seem to be a lot of furtive, well-dressed "business men" hanging about, smoking cigarettes and having quiet conversations with other furtive, well-dressed "business men". Maybe they're all just a bunch of furtive, well-dressed business men, and maybe they're not. I opted not to get nosy because, well, I like to keep my blood on the inside of my body. It's also rumored that the waitresses are "full service" and open minded to alternative sources of income, if you know what I mean and I think you do. *cough* Other than that, the beer was nice and cold, service was okay if not speedy, and the seating was comfortable. But I just never felt at ease there- it was pretty obvious that I wasn't from around these here parts and no one tripped over themselves to smile or say hello to me.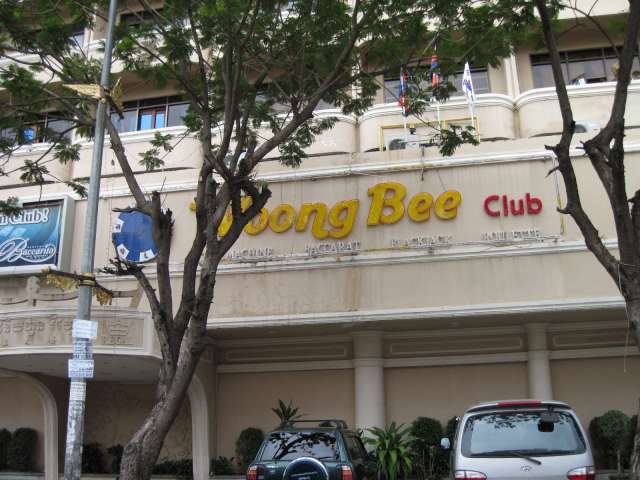 We hope you've enjoyed this tour of lesser-known bars in Cambodia. It was a lot of fun for us, and we hope it was fun for you too. If you'd like to see some fun, silly stuff about our travels and adventures in Cambodia, just click here:
My Cambodian Adventure
. It's a tale of my adventures finding true love in Cambodia, which included heatstroke, landmines, bribing Border Guards, and a certain amount of pushing and shoving.
And it's all true.

My Cambodian Adventure


You can also go Home or to the DiscoverSeattle.net Forum
You can also jump directly to the other trips from here if you want:
My second trip to Cambodia.
The TSA, The Drive Of Death, and Kompong Som
My second trip (continued).
Candy For Breakfast, Power Coffee, and Parking Attendants With Machine Guns!
My third trip to Cambodia.
Hello Vietnam, Cloned Schoolgirls, Eating Bugs, and Bribing Border Guards!
My fourth trip to Cambodia.
Bring The Boy, Kompong Som, Buying A Moto, No Criminals Allowed
My fifth trip to Cambodia.
The Mud Garden, Awesome Landings, Phnom Penh Traffic Insanity
My sixth trip to Cambodia.
More Traffic Insanity, Scary Mannequins, Fish Bladders, and The Buffet Of Death
My seventh trip to Cambodia.
Christmas In Cambodia, How NOT To Laugh, And Awesomely Cool Nails
My eighth trip to Cambodia.
Trafic Cops, Death To Schoolgirls, Hooting Noises, And The Magic Traffic Horn