#15: The Alien Bar
You may have seen this bar before, in a post about
Trip #8
. Yep, it's the same place- The Alien Bar. I had mentioned that I was afraid to go inside for fear of being "probed", cuz' that's what aliens do. But fear not- there was no probing going on at the Alien Bar that we could see. Inside it's dark and quiet. Very quiet. Almost eerily quiet. There may have some probing going on in the back room but we didn't venture that far. All we did was have a quick drink and then backed our way out the door.
The sign says it's says located on Street 51, but I don't think that's right. It's near the corner of Dekcho Damdin and Pasteur street, kitty-corner to Preah Monivong Hospital (right in Phnom Penh).
I don't know what it was about the Alien Bar, but it seemed kinda spooky to me. The waitress's eyes flashed on and off with a red glow, kind of like a Cylon and there was a '
zzzzzt zzzzzzt
' noise whenever she moved, but aside from that we have nothing bad to say about the place. Bonus: You get a free munchie bowl full of diodes and transistors with your brew.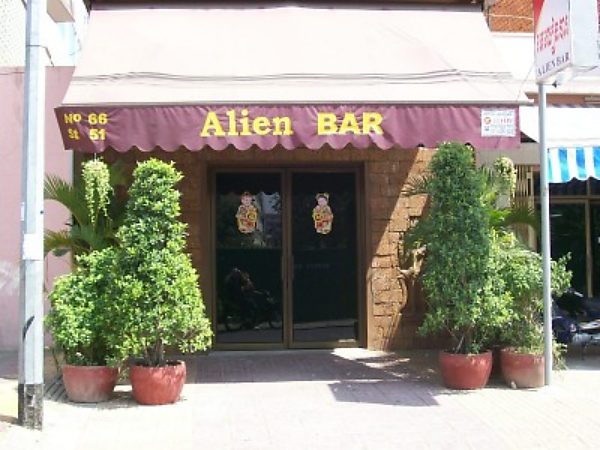 Next: The Kurata Pepper