#9: The Happy Man Bar
The Happy Man Bar is conveniently located next to the Starlight Lounge, and we have only good things to say about it:
Air conditioning:
YES
.
Cold beer:
YES.
Adorably lovely waitresses:
YES.
Proprietor doesn't own a shotgun:
YES.
All in all we think you'll like this bar. The lighting is just right and the noise level is low enough to talk comfortably but not so low that it feels like a tomb. The waitresses are heartbreakingly cute and provide fast service. If your glass starts to run low they'll come over, smile shyly and ask if you want another. Parking is limited to one (1) car at a time, but since almost no one drives a car in Phnom Penh that shouldn't be a problem. The customers are friendly and will gladly talk with you about anything and everything. If there's a "Cheers" style bar in Cambodia, The Happy Man Bar is probably it. Returning customers are greeted with a wave and a smile, making The Happy Man Bar one of our favorite places in all of Cambodia.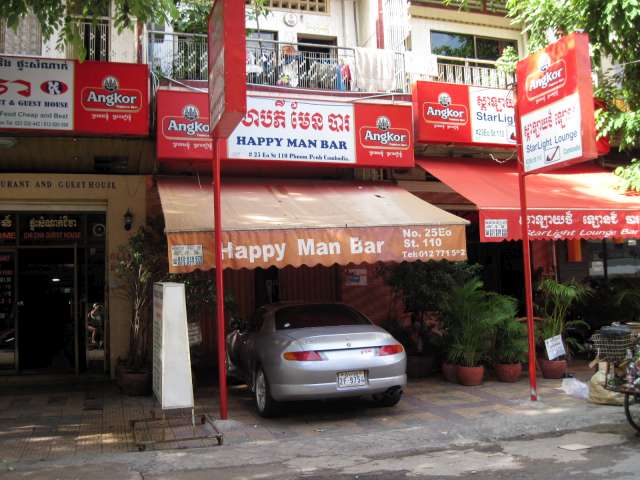 Next: The Goldstar Bar